Good morning from northern California! And I do mean northern! We spent the weekend about four hours up the coast from San Francisco, and it's absolutely stunning. I can't wait to share this area, teaming with great food, jaw-dropping views, and an abundance of peace-and-quiet, with you! But for now, all I can manage is a brain dump of what's been rambling through my head lately.
ONE // I always feel so bad when I feature some darling new piece, only for it to sell out quickly. I try to keep an eye out for y'all, and am happy to report some of the more popular pieces of late are now back-in-stock...starting with this oversized sweater, that's under $40!
They've even added new colors...which pretty much all look great with the soft southwestern scarf. These are also my fave black jeans, which are on sale for $35!!
Mama Sugarplum is a fan of the sweater, too!
The floral print in this swing dress is restocked, as is, my overworked utility jacket. I don't know what it is about this dress, but it's Mr. SP's favorite on me these days.
Fit Tip: Size up in the dress (I'm wearing a small), and down in the jacket (I'm wearing an XXS).
I loved this classic combo of black and white, but the v-neck of the sweater was a bit low for my liking.
This new one
is a much better option, but still has the great relaxed fit.
This is hands-down one of my favorite outfits from the past few months, and the cardigan is always in heavy rotation. The gray is still sold-out, but
this fun marled pink one
just popped up!
TWO // I absolutely love hearing from y'all, and your emails and comments are always the highlight of my day. I'm thrilled when you find inspiration here, and love it even more when you send me pics of your interpretation. This one from a darling reader
(hi, Ashley!),
who was inspired by
our Back-to-School Style post
, is probably my favorite ever! How cute is her daughter?!
The outtakes from this shoot make me laugh every time, too. My family is so supportive, and such good sports!!
THREE // Not only do the OG home bloggers,
John & Sherry of Young House Love
, have two home decor books, but they've added a really
fun coloring book
to their impressive list of accomplishments! Wouldn't it be a great gift for your decor-loving friends?!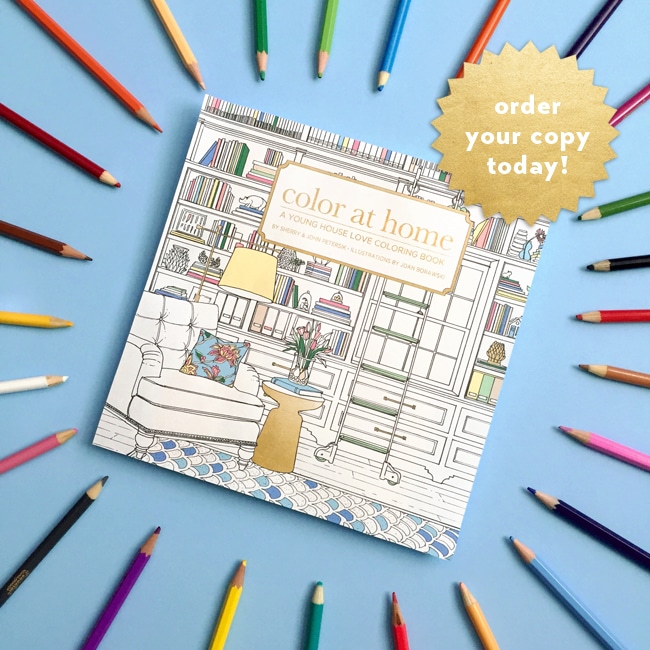 FOUR // I've had Crane & Canopy duvets and shams on our bed for the last several years
(see them here & here)
, and absolutely adore them. I was thrilled to see they added
a Bath category
to their collection...and wowza are they luxurious!!
The towels
are so plush and large, but somehow still dry quickly! I hate when towels don't fully dry between baths!
FIVE // You guys were so kind about our
One Room Challenge reveal last week
, and I so appreciate all the comments and shares around the internet!
House Beautiful wrote a lovely article
about each of the 20 rooms, and I'm just so flattered to be part of it! They even posted my room on Instagram and called it
'their home dreams come true.'
Have you checked out
all the rooms yet
?! I couldn't even begin to choose a favorite...they are all simply amazing. I'll have a full Source List and Breakdown of our room later this week.
SIX // Last month was our family's 11th annual trip to the State Fair of Texas, and it was just as fun as the first time! I sneak the kids out of school a little early on a Friday, and we spend the afternoon watching pig races, feeding the farm animals, sitting in all the new cars, and hanging with Big Tex.
But once nighttime hits, it's all about the food and rides. Growing up, I always went to the Fair
with my grandfather
, and I can't help but think of him the whole time we're there. I know he'd love that I'm carrying on the tradition with my own kids.
SEVEN // I love these (not so) little people!!! #halloween2016
EIGHT // A little while ago, I told you about stumbling across
the Instagram account of these darling newlyweds
, which led me to their blog,
The Lavender's Longshot
, and now I'm glued to their every post. One day LeAnn was blogging about renovating their home, and the next, she's telling the story of her husband's motorcycle accident that left him paralyzed from the armpits down.
(Read their story from the beginning here.)
Her honest accounts of what they are going through
(five months in the hospital, selling their home, moving near a rehab facility, putting their family-planning on indefinite hold)
, along with her unwavering faith and positive attitude, humble me beyond words, and even though we've never met, I find myself thinking about them and praying for them regularly. They adopted the word 'Moxie' while in the hospital because day-after-day, Derek faces each difficult hurdle with strength and courage.
Their friends at
MudLove
created these beautiful handmade mugs
(bracelets, too!)
in their honor, and the sales of them go towards helping the Lavenders with their astounding medical bills, and overwhelming monthly costs
(for things no young man should have to endure).
Which means everyone I know is getting one for Christmas. ;) The mug not only reminds me to pray for them, but what true moxie looks like. You can get your own mugs and bracelets
here
, or give directly
here
.
NINE // Can you believe Thanksgiving is next week?! We actually have our first feast this Saturday, so I've started scouring Pinterest for new recipe twists on the stand-bys. Here are a few of my favorite Thanksgiving-themed posts from year's past.
Project:
DIY Scented Pinecone Wreath
Tablescape:
Natural & Glam Fall Table
Kid Craft:
Paper Pumpkin Placecards
Food:
2-Ingredient Pumpkin Cake
TEN // As the season starts to move on, the sales have been rolling in. These are a few of my key pieces, now heavily discounted.
This high-neck swing dress
, which has been my go-to for many nights out, is not only back-in-stock in all sizes, but marked down under $50! Add some statement earrings, and you've got a great holiday party outfit with this one!
I featured this pencil skirt in a
Day to Night post
earlier this week, and while the sweet bird print is still sold-out, they did restock a fun jungle print. The skirt, blouse and pumps
(my go-tos for work!),
are all on sale!
This blouse is still available in several colors, and on super-sale. It's great tucked in, or worn long with leggings. And you know I adore the bootcut jeans.
You may recall this look from my
30 Days of Fall Outfit Ideas post
, but I can't talk about sales without mentioning this fabulous peacoat...on sale for only $38. Just be sure to size up one. Oh, and the leopard scarf is back-in-stock, too.
I've yet to wear these booties when someone doesn't stop me to comment...and those of you that have them agree, they are as comfy as they are darling. And also on sale.
(Size down half-size!)
This fleece-cardi isn't new, and I'm pretty convinced most of us have it by now! I'd feel embarrassed about how many I own, except every time I post it, y'all chime in with just how big your own collection is! It's definitely one of my favorite things to wear, and with so many colors now on sale, it's hard not to grab more!
What's rambling through your head this Monday? I'd love to hear what's going on in your world!
{Shop the Post}

*A portion of this post is created in collaboration with Nordstrom, but all clothes, ideas and sales-stalking are my own. Thank you for supporting Hi Sugarplum sponsors.*